Sell your classic car
At the moment we are only buying cars from Sweden. We have so many nice cars here and with the current exchange rate and Corona situation, it does not make sense to import any cars.
If you are a Swede och browsing from another country, you need to switch to Swedish language to read more about how we can help you sell your car, or if you want to sell your car to us.
Would you like to sell your car? We are always looking for interesting cars to buy. Also, we take classic cars in consignment. We are interested in classic Ferrari, Lamborghini, Alfa Romeo, Porsche, Mercedes and other cars similar to what you can find on our website.
At the moment we are looking especially for the following classics:
Volvo P1800 in good to excellent condition. Volvo Amazon in good condition.
BMW 2002
BMW 3,0 CSi
Alfa Romeo Bertone Coupe or any Alfa before 1985
Aston Martin
Mercedes Ponton 180, 190, 220 and any other classic Mercedes before 1980. Fintail etc
Mercedes Coupe W111 W112
Microcars: Isetta, Fulda, Heinkel, Fiat
VW in very good condition up to 1965
Top condition, low km cars from the 80s
Karmann Ghia, Datsun 240Z, and other GT cars
DeTomaso cars and other Italian exotics are of special interest. Iso
Triumph, TR 250, TR5, TR6, GT6 TR2 TR3
Jaguar E-type, 420G, and more
LOTUS Elan, and all Lotus up to 1975
Jensen Interceptor
Citroen DS
Please let us know if you have a car like this and would like to sell. BUT, at the moment we buy cars ONLY in Sweden and we do not buy American cars from USA.
Interested? Contact me here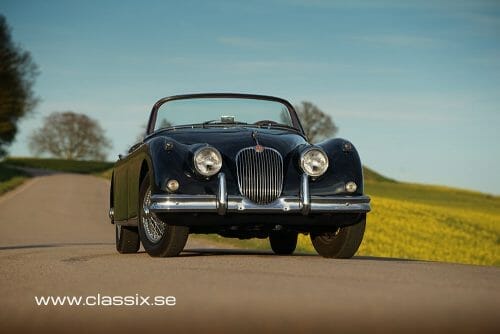 I have been the owner of a great looking XK 150 DHC for more than 20 years. I drove it 25,000 km, deciding that I wanted something new I contacted Michael at Classix, Sweden and gave them the task to sell the car. I did not have high hopes of a quick deal but Michael really did exceed my expectations and managed to find a buyer that paid a fair price in just a matter of weeks. There was no hassel whatsoever and the purchase sum was transferred to my account swiftly.
I do recommend Classix to anyone who wants to sell a vintage car and I wouldn't be too surprised if I buy my next car from them in addition.
Kristian Borglin