Jaguar E-type Series 3 Coupe
Jaguar E-type Series 3 Coupe 1972 project car for sale in Sweden
This Jaguar E-type series 3 FHC came from USA and the original outside colour was silver and the colour of the interior is light blue. I think it will be great colour combination when the car is restored.
The Jaguar E-type series 3 came to Sweden in 1990 from Pennsylvania USA. Tax and duty have been paid here. There is no more tax when sold to countries in E.U.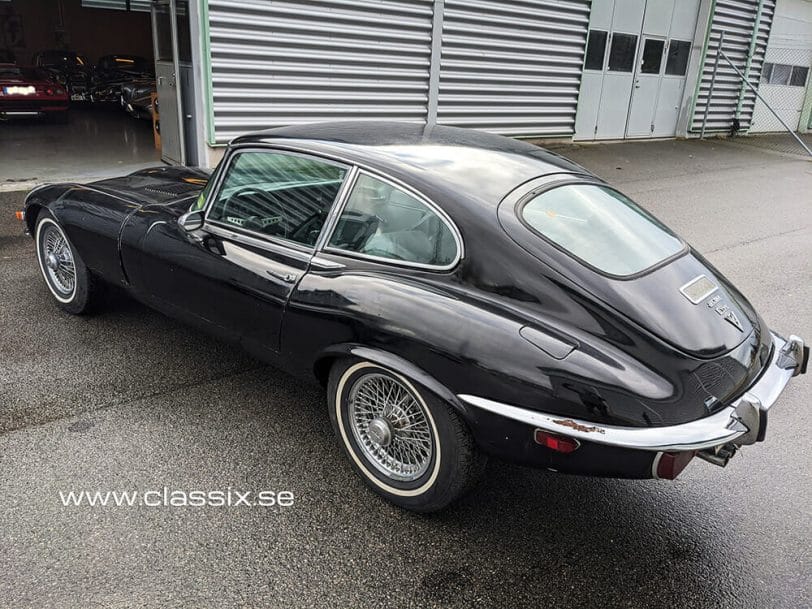 Exterior: The Jaguar E-type Coupe project for sale here has a very good and pretty much rust-free body. Where the hinges attach to the hood it is rusty and there is a factory new plate. (the underside of the grill) and also the hinges are new. Also, some other small plates that goes in this are to prevent dirt from the wheels to come into the engine compartment. The chrome parts are ok, and all glass is very good. Doors open and shut easy. Chrome spoke wheels including the spare.
Interior: The interior of the Jaguar E-type project for sale is remarkably good! The light blue leather seats are in very good condition. The foam in the headrests have sunk in a little bit as they always do. Door sides and other panels are all there and in good condition. Just need a proper clean. Instruments look very good and they seem to work. The is a rust hole on the floor on the passenger side since the car had A.C before and the fluid leaked out there and was sitting for a long time.
Restoration project for sale: Jaguar E-type FHC Series 3
Engine: The motor on this Jaguar E-type Coupe series 3 coupe has been sleeping for a very long time. But when I put in a new battery, and some fresh fuel it started right away, and it sounds very good. For sure this car has not travelled more than the 73.000 miles that is on the odometer. And according to the badges it is the correct engine for the car. Fuel tank is new. Automatic gearbox also works fine. Other functions like brakes have not been tested.
History: The car was sold new in USA back in 1972 and came to Sweden in 1990. It has been sitting in a dry heated garage since 1990 and not been driving at all. I think this is a great and worthy project for somebody. You can choose the level you want to put the car in. You do not need to buy many expensive parts, it is mostly labour. Considering how expensive the early Jaguar E-types have become you can be sure also the Jaguar E-type Series 3 Coupe project will follow. If you are interested please send an e-mail.